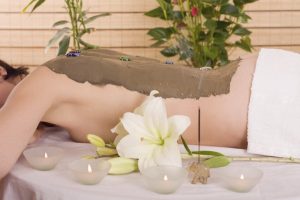 Since you have found yourself clicking on over to this specific treatment page, we bet it's pretty safe to say that you're more than a little curious to know just what the definition is and what it means for you and all things pertaining to your skin to exfoliate. We can also bet that you have seen all the many aisles and tubes of lotions and creams while grocery or online shopping with words including: scrubs and beads. Then let us get to the very dictionary definition of it.
To exfoliate literally means to come apart or be shed from a surface in scales or layers or to wash or rub (a part of the body) with a granular substance to remove dead cells from the surface of the skin. That's the actual technical definition, but just what do we offer in the way of you wanting to set up an appointment with us, right now, today, to exfoliate? We are so glad you asked – and are up to the task.
When you take an appointment to exfoliate, this is exactly what you can expect. A full body exfoliation with sea salt scrub and the application after of a moisturizer. Why? Because it is important to note that after you have shed that dead layer of skin with exfoliation that you quench that beautiful new layer of skin you're now in. Did we mention that you can also benefit from a chocolate mask and that we can self-tan you, too?
Exfoliation treatment: Full body exfoliation with sea salt scrub and application of moisturizer.
35-minute treatment: $40
Exfoliation and manual tanning: Full body exfoliation with sea salt scrub and application of moisturizer with the extra added bonus/application of a dark self-tanning lotion.
50-minute treatment: $65