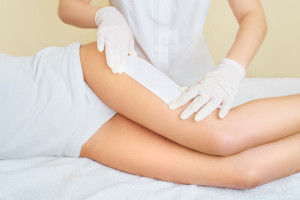 We offer a full body wax, on a professional massage table, all in the comfort of your own home. Please read below as to just which parts you can now have waxed, along with their (full) session's price tag:
Chin: $10
Eyebrows: $12
Upper lip: $8
Full legs: $45
Half legs: $22
Thigh: $25
Full arms: $20
Half arms: $12
Underarms: $10
Brazilian bikini: $30 (women only)
Bikini: $15 (women only)
Bikini line (lower stomach): $15 (waxing for men)
Chest: $35
Stomach: $10-$15
Belly button: $8
Full back: $30
Half back: $20
We don't want to forget to mention that we just so happen to offer waxing(s) for both women and men – and that they are outlined in the above list specific; and a waxing session also happens to make a great present or gift as well. For, say, a bachelorette or bridal (or groom) party as they are getting wedding day ready or even a girls' night out or in, but most especially if you just don't want to have to leave the comfort of your home to go in for a local salon appointment; and, before we forget to mention it, please also feel free and most welcome to visit our package deal page to see how you can also bundle this as a gift (for either yourself, that bridal – or groom party) today.
Make sure to visit our FAQ page before booking your appointment.