Mai 2022
Ci-dessous est une entrevue réalisée par Subkit : https://gosolo.subkit.com/anne-lelievre-makeup-spa/
Enhanced Natural Beauty – Anne Lelièvre Makeup & Spa
Interested in starting your own entrepreneurial journey in beauty services but unsure what to expect? Then read up on our interview with Anne Lelièvre, owner of Anne Lelièvre Makeup & Spa, located in Montreal, QC, Canada.
What's your business, and who are your customers?
I offer mobile makeup, permanent makeup, and hair treatments. My clients are people who are busy and don't have time to travel to their appointments, people with children, or people who don't have transportation.
Tell us about yourself
I have always been passionate about makeup and enhancing people's natural beauty. It feels amazing to know I could make someone happy by improving the texture of their hair, saving them time every day with permanent makeup, or making them look even more beautiful on their special day.
What's your biggest accomplishment as a business owner?
I am able to see the same clients often for different services and develop a nice relationship with them.
What's one of the hardest things that come with being a business owner?
Saying no to appointments that don't suit me. When I first started, I wanted to make everyone happy and would always say yes, to the point where I had no more time for myself or my relationship.
What are the top tips you'd give to anyone looking to start, run and grow a business today?
Be consistent.
Be honest and caring.
Work hard.
Owning your own business definitely has its difficulties, but the rewards are amazing. You can have a consistent sleep schedule, eat well, work out, and take time off when needed while making more money than you would at a regular 9-5 job.
Where can people find you and your business?
Website: https://annelelievre.com/
Facebook: https://www.facebook.com/AnneLelievreMakeupSpa/
Instagram: https://www.instagram.com/anne_lelievre_makeup_spa/
LinkedIn: https://www.linkedin.com/in/anne-lelièvre-204b2551/
Avril 2022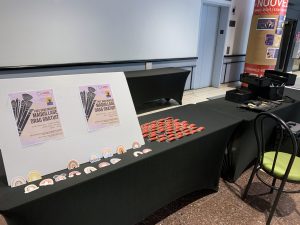 Anne Lelièvre Makeup & Spa a eu le privilège d'être embauchée par le Collège LaSalle pour offrir des maquillages pour la Semaine de la visibilité transgenre. Nous avons maquillé les étudiants des deux sexes qui étaient présents. Un jeune homme a même eu le courage de se faire maquiller pour la première fois.
Janvier 2019
Anne Lelièvre Makeup & Spa était fière de faire un maquillage naturel et une coiffure simple pour des séances photo et vidéo afin de promouvoir Boks Kids, une organisation à but non lucratif appartenant à Reebok. Une des modèles était Kim St-Pierre, une joueuse de hockey sur glace canadienne, trois fois médaillée d'or olympique et cinq fois championne du monde. Les séances de photos et de vidéos ont eu lieu à l'école Madeleine Brousseau et au Parc Centennial.
Janvier 2019
Anne Lelièvre Makeup & Spa était heureuse de participer à la Journée de la mini-manucure d'ADP Canada. Beaucoup de leurs employés, hommes et femmes, ont reçu une mini-manucure à leur bureau. Cela leur a permis de prendre quelques minutes pour se détendre pendant cette période occupée de l'année.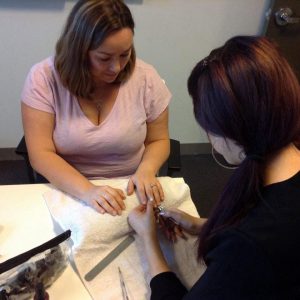 Septembre 2018
L'événement Puremove de Reebok
Anne Lelièvre Makeup & Spa a eu l'honneur de participer à l'événement Puremove de Reebok. Toutes les femmes qui ont essayé le soutien-gorge Puremove de Reebok ont reçu une mini-manucure gratuite. Cet événement a eu lieu samedi et dimanche. Plusieurs dames ont profité de cette promotion spéciale qui a eu lieu à Mirabel.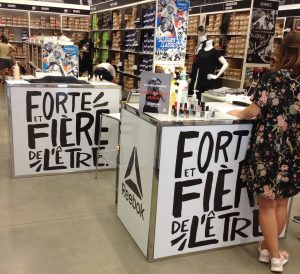 Février 2014
L'événement « Full power yoga » à l'Espace GD
Anne Lelièvre Makeup & Spa est fière d'avoir participé à l'événement « Full Power Yoga » à la gallérie de l'Espace GD située dans le centre-ville de Montréal. Les gens présents ont pu bénéficier d'un massage yoga thaï de 30 minutes, mini manucure, lecture de carte d'ange et d'un choix de jus de fruits frais.  Tous les cours de yoga coûtaient seulement 8 $. C'était beau de voir que le programme incluait aussi des cours pour les enfants avec des toutous et de la musique. Ils ont adoré ça!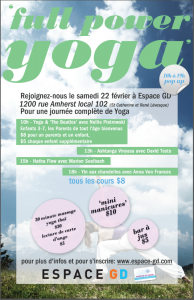 Décembre 2013
L'événement « Celebrate Your Beauty » à FitClub24
Anne Lelièvre Makeup & Spa est fière d'avoir participé à l'événement Celebrate Your Beauty au gym FitClub24 situé dans le centre-ville de Montréal. Les gens presents ont pu bénéficier d'un massage, manucure, facial et maquillage et ont eu une séance photo par la suite.  Tout ceci pour seulement 10 $ (15 $ à la porte). L'événement a été un énorme succès. Le gymnase a été rempli de personnes qui étaient enthusiastes d'essayer toutes les stations. L'événement s'est meme terminé plus tard que prévu.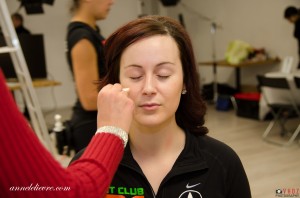 Octobre 2012
Ci-bas un article paru dans le Magasine Fiora.
Secrets to Success part II – fioramagazine October 9, 2012
Anne Lelièvre
This make-up artist has been in the business for two years, and splits her time between doing make-up (she accepts home sessions and does house calls for weddings and photo shoots) and working at a legal firm. "It's seven days a week," says Lelièvre of her hectic schedule. "One time, I even did someone's makeup over my lunch hour!"
Lelièvre started studying makeup through a Mary Kay workshop she found online. "They told me they had free training, which I thought was awesome," she says. Soon, Lelièvre was ready to, "go bigger", and started studying catalogue makeup. "Photography makeup requires more details," she explains.
She says her biggest challenge in becoming a makeup artist was overcoming her shyness. "It was really hard giving out cards and approaching people," she recalls. Today, she's beaten the bashfulness, and has built up a solid client base.
Lelièvre, who says she hopes one day to do make-up full-time, is planning on expanding into hairstyling and home spa treatments.
Her advice to aspiring make-up artists? "I would tell them to just keep pushing, keep working hard, and get advice from as many people as you can."
You can visit her website at: annelelievre.com
-Text by Elisabeth Fraser