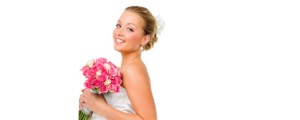 So you've found the perfect guy and the perfect dress, then all your fairy-tale is missing is the perfect look for your big day as the beautiful, blushing bride. With over 8 years of experience in the make-up world, Anne Lelievre is your best bet for a picture perfect look on your big day. From flawless dewy complexion to recreating looks from right off the runway or the pages of your favourite magazine, Anne's got you covered. Using only the finest cosmetics from trusted brands, Anne's Picture Perfect Wedding Package helps you get prepped and primed for the day you've been waiting for all your life. Anne's Picture Perfect Wedding Package includes:
Pre Wedding Makeup Trial
Custom Creations- Because You Are One Of A Kind
Our team will work with you to create a look that's perfect for you.  Whether it's recreating a look from a magazine or coming up with something totally new and you bold. We'll show you your best angles and find the shades that make you shine.
No Touch Up Worries- We've got you covered throughout the day so you can look fresh and phenomenal all day long.
Something For The Single Ladies- If you'd like your bridesmaids colour coordinated and in theme, our team can take come up with some great looks to complement your maids of honour.
It's going to be a day you'll remember all your life so why not let Anne and her team make sure all those memories are Picture Perfect.