May 2022
Below is an online interview by Subkit: https://gosolo.subkit.com/anne-lelievre-makeup-spa/
Enhanced Natural Beauty – Anne Lelièvre Makeup & Spa
Interested in starting your own entrepreneurial journey in beauty services but unsure what to expect? Then read up on our interview with Anne Lelièvre, owner of Anne Lelièvre Makeup & Spa, located in Montreal, QC, Canada.
What's your business, and who are your customers?
I offer mobile makeup, permanent makeup, and hair treatments. My clients are people who are busy and don't have time to travel to their appointments, people with children, or people who don't have transportation.
Tell us about yourself
I have always been passionate about makeup and enhancing people's natural beauty. It feels amazing to know I could make someone happy by improving the texture of their hair, saving them time every day with permanent makeup, or making them look even more beautiful on their special day.
What's your biggest accomplishment as a business owner?
I am able to see the same clients often for different services and develop a nice relationship with them.
What's one of the hardest things that come with being a business owner?
Saying no to appointments that don't suit me. When I first started, I wanted to make everyone happy and would always say yes, to the point where I had no more time for myself or my relationship.
What are the top tips you'd give to anyone looking to start, run and grow a business today?
Be consistent.
Be honest and caring.
Work hard.
Owning your own business definitely has its difficulties, but the rewards are amazing. You can have a consistent sleep schedule, eat well, work out, and take time off when needed while making more money than you would at a regular 9-5 job.
Where can people find you and your business?
Website: https://annelelievre.com/
Facebook: https://www.facebook.com/AnneLelievreMakeupSpa/
Instagram: https://www.instagram.com/anne_lelievre_makeup_spa/
LinkedIn: https://www.linkedin.com/in/anne-lelièvre-204b2551/
April 2022
Anne Lelièvre Makeup & Spa was privileged to be hired by LaSalle College to offer makeup applications for Transgender Week of Visibility. We offered makeup applications to students of both genders who were present. One gentleman even had the courage to have his makeup done for the first time.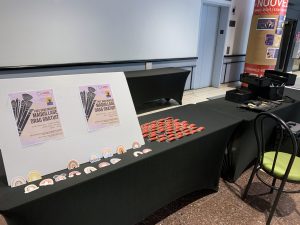 January 2019
Anne Lelièvre Makeup & Spa was proud to do a natural makeup look and simple hair styling for photo and video shoots to promote Boks Kids, a nonprofit organization owned by Reebok. One of the models being Kim St-Pierre, a Canadian ice hockey player who is a three-time Olympic gold medallist and five-time IIHF world champion. The photo and video shoots took place at École Madeleine Brousseau and at Centennial Park.
January 2019
Anne Lelièvre Makeup & Spa was happy to participate at ADP Canada's Mini-Manicure Day. Many of their employees, both men and women, received a mini-manicure at their office. This allowed them to take a few minutes to relax during this busy time of the year.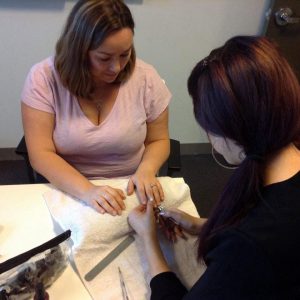 September 2018
Reebok's Puremove Event
Anne Lelièvre Makeup & Spa was honoured to participate in Reebok's Puremove Event. Every lady who tried on Reebok's Puremove bra received a complimentary mini-manicure. This event took place Saturday and Sunday. Many ladies took advantage of this special promotion which took place in Mirabel.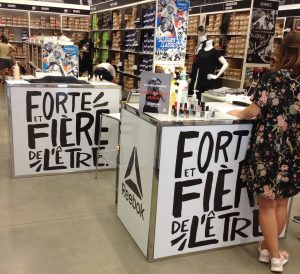 February 2014
"Full Power Yoga" event at Espace GD
Anne Lelièvre Makeup & Spa was proud to be part of the Full Power Yoga event at the Espace GD Gallery located in downtown Montreal. The ladies and gentlemen who attended were able to receive a 30-minute Thai Yoga Massage, mini manicure, angel card reading and different fresh fruit juices. All yoga courses were only $8. It was nice to see that the event also included yoga courses for children with teddy bears and music. They loved it!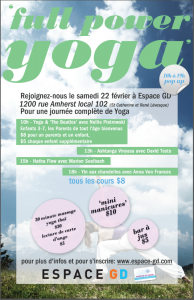 December 2013
"Celebrate Your Beauty" event at FitClub24
Anne Lelièvre Makeup & Spa was proud to be part of the Celebrate Your Beauty event at the FitClub24 Gym located in downtown Montreal. The ladies and gentlemen who attended were able to receive an express massage, manicure, facial and makeup and get their picture taken for only $10 ($15 at the door). The event was a huge success as the gym was packed with people who were excited to try all the stations. We even had to extend the event to cater to all the people present.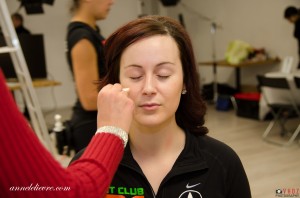 October 2012
Below an article found in Fiora Magazine
Secrets to Success part II – fioramagazine October 9, 2012
Anne Lelièvre
This make-up artist has been in the business for two years, and splits her time between doing make-up (she accepts home sessions and does house calls for weddings and photo shoots) and working at a legal firm. "It's seven days a week," says Lelièvre of her hectic schedule. "One time, I even did someone's makeup over my lunch hour!"
Lelièvre started studying makeup through a Mary Kay workshop she found online. "They told me they had free training, which I thought was awesome," she says. Soon, Lelièvre was ready to, "go bigger", and started studying catalogue makeup. "Photography makeup requires more details," she explains.
She says her biggest challenge in becoming a makeup artist was overcoming her shyness. "It was really hard giving out cards and approaching people," she recalls. Today, she's beaten the bashfulness, and has built up a solid client base.
Lelièvre, who says she hopes one day to do make-up full-time, is planning on expanding into hairstyling and home spa treatments.
Her advice to aspiring make-up artists? "I would tell them to just keep pushing, keep working hard, and get advice from as many people as you can."
You can visit her website at: annelelievre.com
-Text by Elisabeth Fraser