We are now proud to sell L'Oreal Professional products, including the prestigious Série Expert and Pureology products, the latter containing Anti-Fade technology, which helps your color last longer without containing Sodium Laureth Sulphate (SLS) or parabens. These products are perfect for prolonging the duration of your Brazilian keratin treatment, nanoplastia, taninoplastia, enzymotherapy or hair botox treatment.
Sodium Laureth Sulfate (SLS)
What are the possible side effects of Sodium Laureth Sulfate (SLS)? Any of the "sulfate" family of detergents can cause irritation to skin. Your scalp depends on a non-irritated environment so the hair cycle and scalp health stays in good shape. Sulfates can be a little too effective, stripping the skin of oil and proteins and causing an irritated scalp and dry, frizzy locks as a result.
Parabens
What are the possible side effects of parabens? Allergic reactions – The skin is the largest organ in your body. Therefore, the scalp is a part of this organ and it's imperative for the scalp to not become irritated. Irritation from a possible allergic reaction can lead to inflammation on the scalp which can make hair thin and unhealthy. Estrogen Activity – There have been experiments that show parabens having a weak estrogenic activity. Studies have also linked parabens to cancer, since they can weakly mimic estrogen.
For a smooth look and mirror-like shine. This professional and high-tech steam straightening iron allows for continuous steam to flow gently and efficiently through the hair fibers, repairing them as it styles, so that you may straighten or curl your hair quicker for a long-lasting result. For perfectly straight and shiny hair, or playful and voluptuous wavy curls that everyone will envy. Designed to be used with Steampod hairstyling products (Steampod protective smoothing serum, Steampod smoothing cream for thick hair and the Streampod smoothing cream for thin hair). You can purchase it for $295 delivery included, for a limited time only.
• Your hair will be 50% smoother than with a regular smoothing treatment
• Shiny, frizz-free hair for 3 days
• Pro-Keratin technology: 20% increased hydration level, steam-activated action, deep repair
• The smoothing cream for fine hair nourishes the fiber
• The smoothing cream for thick hair restores the fiber
• The protective smoothing serum embellishes ends for all hair types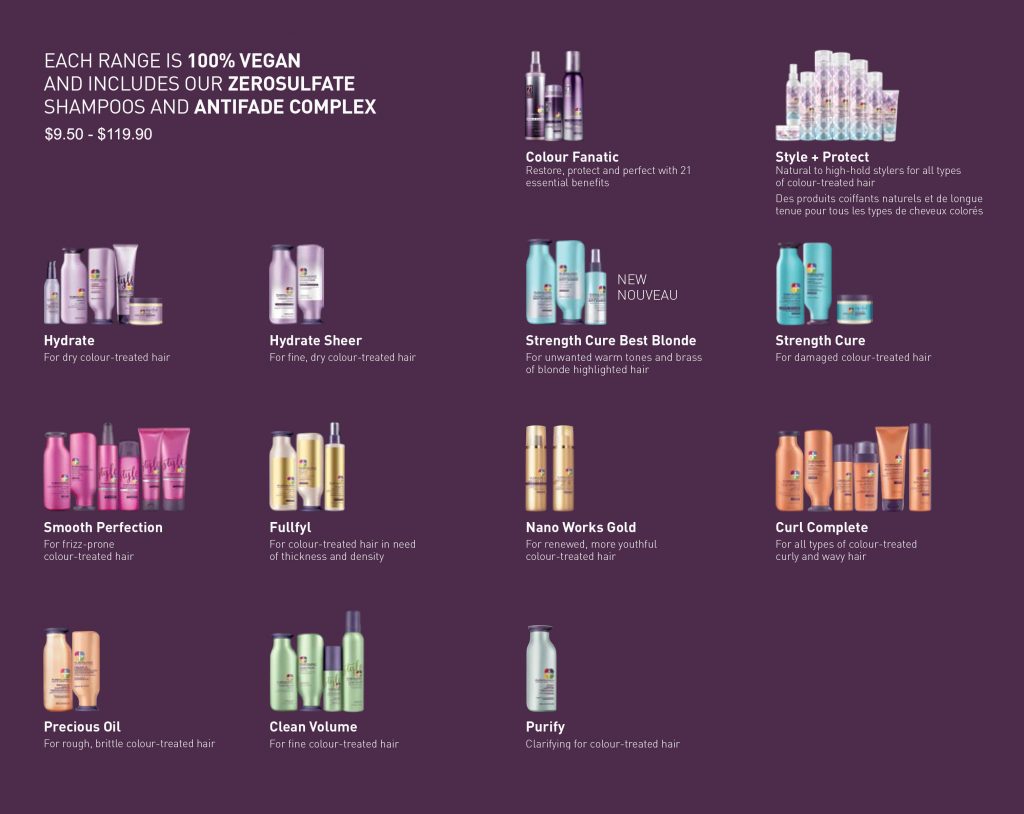 Pureology takes your hair colour seriously. Each color care and styling product is designed to preserve the color, health and shine of colored hair.
• 100% vegan formulas contain herbal extracts of responsible origin as well as fragrances specific to aromatherapy
• ZeroSulfate Shampoos formulated with surfactants composed of natural derivatives of coconut, corn and sugar to gently clean the hair without damaging the color
• Each bottle can last about twice as much as most other professional shampoos
• The exclusive AntiFade Complex rich in antioxidants provides broad spectrum UVA-UVB sun protection and helps color-treated hair retain the vibrancy of a freshly-made salon colour
• Bottles contain up to 50% post-consumer recycled content, are 100% recyclable and are made of the latest plastics approved by the Food and Drug Administration (FDA), so that they are safe for the environment and contribute to sustainable development.
86% of customers approve: Pureology helps to maximize colour preservation.
Pureology is a proud supporter of ovarian cancer awareness, in association with Ovarian Cancer Canada.
EXCLUSIVE TECHNOLOGY
ZeroSulfate Shampoo
• Natural cleansing thanks to the coconut, corn and sugar from which the surfactants they contain are derived
• Extra foaming ingredients without sulphates and without salts
• Does not stain
• Concentrated to allow up to 70 shampoos per bottle
• Contained in all Pureology products
AntiFade Complex
• Powerful antioxidants and broad spectrum UVA-UVB sunscreens including Heliogenol and Vitamins C and E
• Protects the colour of free radical damage and environmental aggressors
• Maximizes colour retention
• Contained in all Pureology products, except for Purify shampoo
AntiFade Fortifying Complexe Shampoo
• Contains all the benefits of the AntiFade Complex plus a strengthening Keravis blend to strengthen hair and help prevent breakage
• Contained in all Pureology products
AntiFade Oléo Complex Styling
• Contains all the benefits of the AntiFade Complex plus a nourishing blend of triple action micro-oils to regenerate the lipid barrier, balance porosity, restore manageability and enhance colour vibrancy
• Contained in Precious Oil products
AntiFade Thermal Complex
• Contains all the benefits of the AntiFade Complex in addition to a heat-resistant crystalline barrier, xylose, to protect the hair from damage caused by frequent use of heating devices
• Contained in Smooth Perfection products
Asta-Repair
• Contains astaxanthin, a powerful natural antioxidant, as well as the AntiFade Complex, to maintain radiance
• Keravis, ceramides and arginine help replace cysteine ​​bridges and repair damaged cuticles to restore strength for velvety soft hair
• Contained in Strength Cure products
3D elastic crystal network technology
• Contains IntraCylan and elastin to balance porosity, control frizz in a sustainable way, and provide body and hair hold
• IntraCylane acts as an anchor inside the hair fiber, providing control of frizz and definition
• Elastin acts on the surface of the hair to provide moisture, nutrition, definition and shine
• Contained in the duo Curl Complete Curl Extend products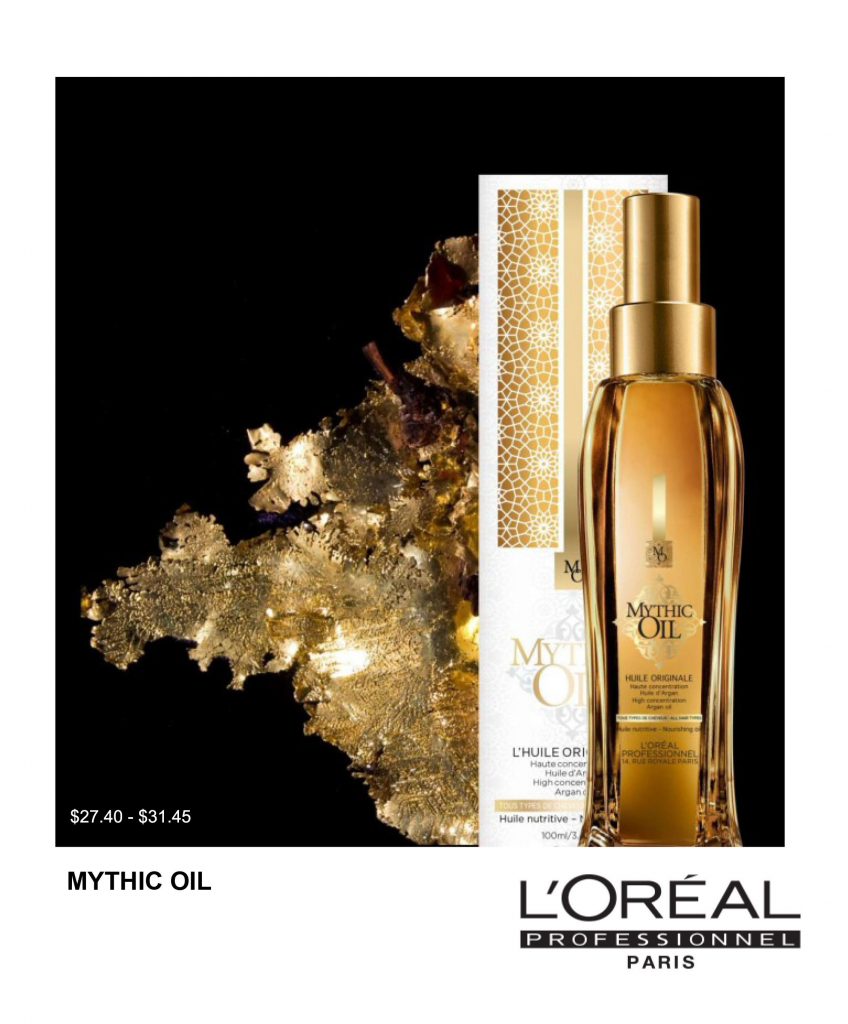 The Mythic Oil products instantly and deeply nourish the hair fiber for a radiant shine and controlled hair. Infused with avocado oil and grape-seed oil, any hair type or latest hairstyle trend is easily improved and enhanced with just a couple of drops from this luxurious hair oil.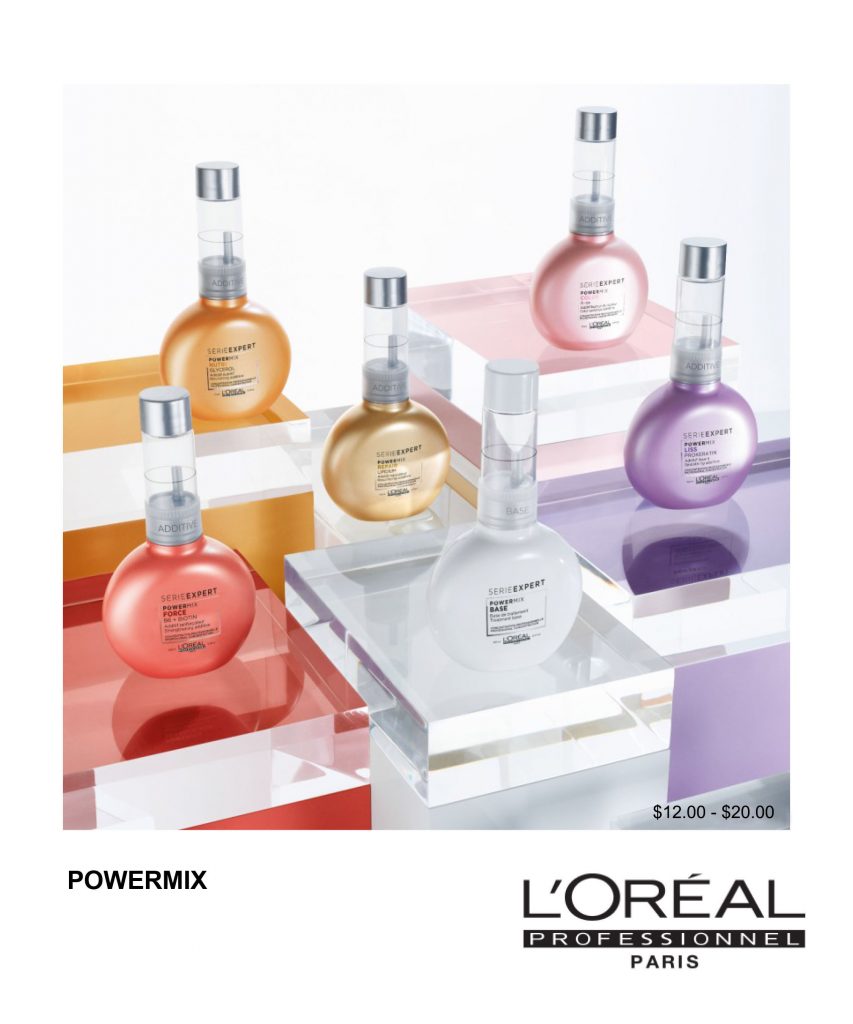 Powermix is a hair treatment that we offer in the comfort of your home. Hair is unprecedentedly soft and magnified by a flash of shine in only a few minutes!
Pro Fiber extends for up to six weeks the in-salon protocol effects by recharging damaged hair with APTYL 100. Discover new fiber effect from roots to ends. The advanced technology of the RE-CHARGE Mondose should be applied every 4th wash to reactivate the PRO FIBER treatment exclusively offered in L'Oréal Professionnel salons like ours. After 5 minutes, hair is intensely nourished and transformed into a soft material that's easy to disentangle. Once dried, the hair is shiny, silky and disciplined, and recharged for long-lasting care. Reactivation of in-salon treatment by Pro Fiber shampoo up to 4 washes + extension of in-salon treatment by Pro Fiber Re-charge.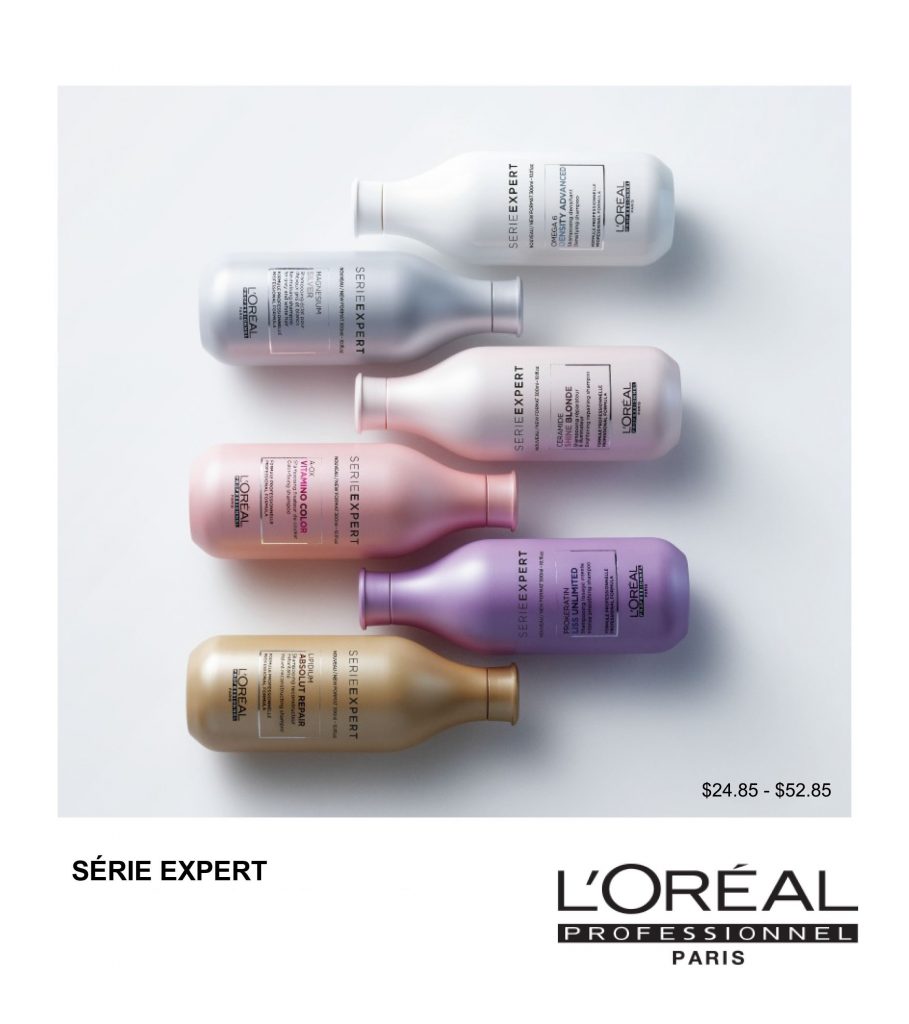 Série Expert invents the 1st strengthening anti-breakage hair treatment precisely dosed in vitamin b6 + biotin to stop hair breakage and fall. This duo of star actives is found throughout the Série Expert Inforcer range—not only in the shampoo, conditioner and mask, which are all no-rinse products, but also at the heart of three other products: a smoothing anti-breakage product, a brush-proof spray and a night anti-friction serum.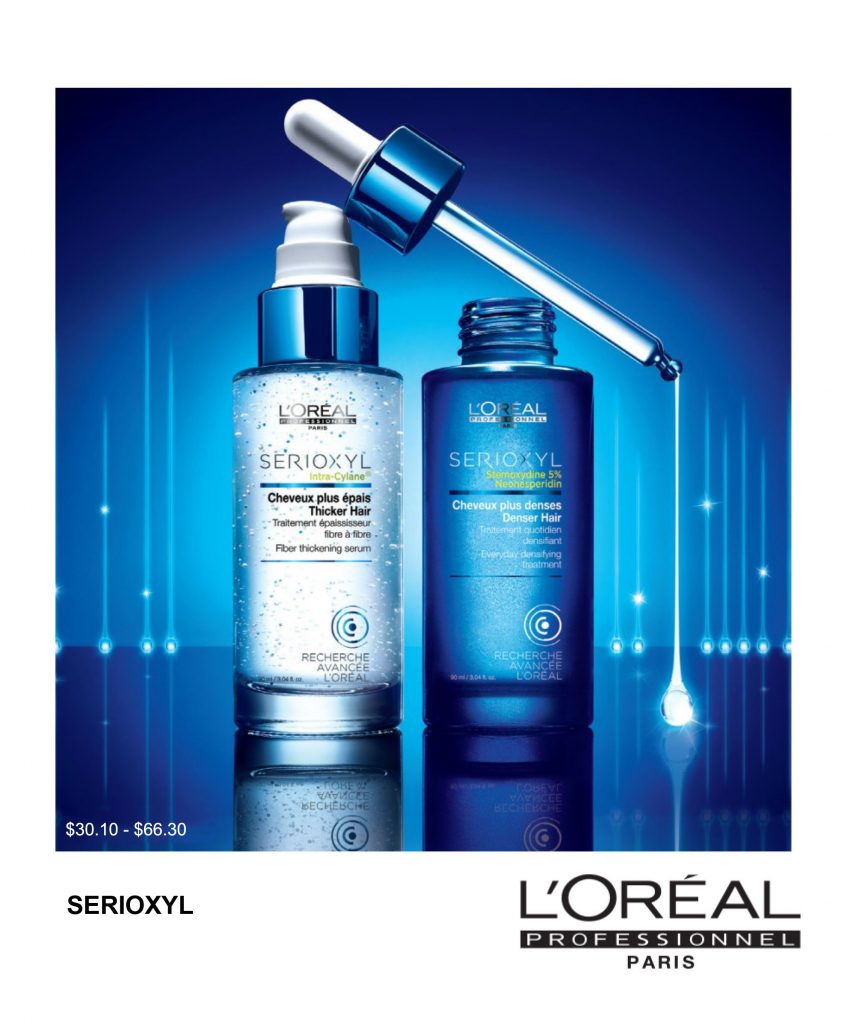 Let Serioxyl take care of your thin hair. The intense thickening range immediately helps hair look denser and lifted. It helps improve the look of the hair fibre density and is ideal for use on fine hair. Try our complete kits today to make your hair feel thicker and healthier.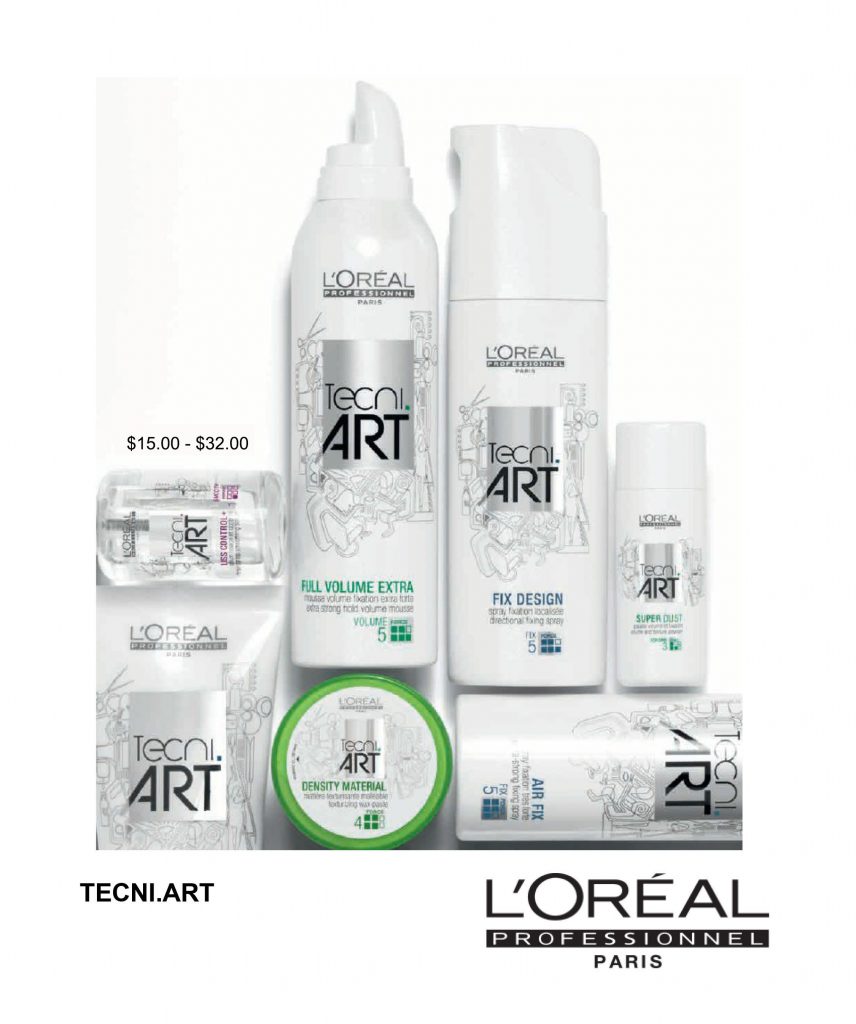 Bring out the artist within and truly play with your hair – molding it into any thinkable shape, form or angle with Tecni.Art hairstyling products from L'Oréal Professionnel.