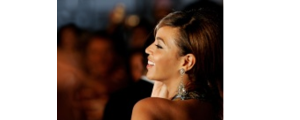 It's time we all face it. Famous women have a lot of experience being made-up, photographed, and critiqued. Our favorite ladies of the red carpet are more aware of how their images play on the big screen and in person than we could ever be. Somehow, we've bought into this idea that when a star gets ready to go out, it's a whirlwind of make-up artists, stylists and designers imposing their will on a very lucky muse. Well, that idea of beauty is going bust in this new age of the informed and self-determined woman.
Maybe she's born with it, or maybe she just made it up? More and more celebrities are coming clean about how they look so good on camera. Let's take a gander at our favorite celebrity tips and decide whether or not they paint a pretty picture or fade in the light of day.
The Queen Bey has a simple, but interesting tip that will really drop jaws all over town.
"A woman is most beautiful when she smiles. Other than that, the most valuable tip I've learned is always use a skin moisturizer!"
– Beyoncé
Actresses always have a flair for the melodramatic. Although famous for her, 'windblown', natural beauty, Kate Winslet suggests a calm and collected look.
"A good eye cream is really important when you are traveling, busy and stressed-that's when the dark puffy circles can get you."
– Kate Winslet
The undisputed Queen of R&B Soul has more than enough street-cred to throw around. But her secret to always looking royal is being a real grime-fighter.
"Don't go a full day or night without washing your face. You have to get all the dirt and makeup out of your pores."
– Mary J. Blige
Of course, to be a real star, you have to stand out from the crowd. This usually loved, sometimes loathed beauty is fond of an item that slips by most beauty lists.
"I use omega-3 oil. I love light oil on my skin. It's one of my favorite feelings in the world."
– Gwyneth Paltrow
Defense is just as important as offense when it comes to a successful beauty regimen. This angel relies on a moisturizer for more than just moisture to keep her skin looking divine.
"When I was shooting a movie in Montreal, it was freezing. If you take a little bit of Aquaphor and dab it on your face, it keeps your skin looking fresh. I dubbed it Aqua For Everything."
– Lucy Liu
And on that same note, there's more than one way to skin a cat and there's more than one way to moisturize skin. Just ask this young belle who is far from ugly.
"Once I started drinking more water, my skin, hair and nails all flourished."
– America Ferrera
The best illusions are the one's that you don't even notice. Use this magical tip to give your skin the touch of eternal youth.
"After applying foundation and a little blush, dust your face with translucent powder, then mist skin with a rosewater spray and lay a Kleenex over for a second. It makes your face seem flawless in a way that looks as if you aren't wearing any makeup."
– Liv Tyler
Adding a little twist can go a long way. You don't have to do something wild or excessive to have a dramatic effect. One simple trick can leave you sparkling like this quiet beauty.
"I wear lip stain on my cheeks underneath my foundation."
– Jewel
What you don't do can be just as important as what you do. Experience and a makeup line of her own have taught this super-beauty that some things are simply not cute.
"Every woman-even women of color-should wear a blush bronzer. Not a self-tanner bronzer!"
– Iman
Don't be afraid to mix things up. If something may be too much on it's own, tone it down by pairing it with your usual colors. This tip may have helped to snag Ryan Gosling, so it's a tried-and-tested winner.
"A shimmery bronzer is the perfect way to look alive. If you don't want to wear makeup, mix some with moisturizer. You'll look pretty but not made-up."
– Eva Mendes
Leave it to an actress who plays a doctor on television to get all scientific with her makeup tips.
"For a smoky eye, moisturize the area first, so when you line the lid with a pencil it will smudge naturally."
– Ellen Pompeo
In the process of becoming a beautiful swan, you may take a few false steps into the swamp. That's perfectly normal. Just be ready to make corrections like this brave pop star who's never afraid to go out on a limb.
"Apply loose powder on top of the foundation under your eyes, so if a little shadow spills, it's easier to wipe off."
– Katherine McPhee
Less is more…more or less. I think. Well anyways, if you take a shine to this tip, you can thank this Oscar winner who's been a monster influence in the beauty world for decades.
"To make lips look naturally pink, I put on red lipstick, wipe it off, and then apply clear gloss."
– Halle Berry
They say that beauty is in the eye of the beholder. Then again, it's your body, so you decide what makes it beautiful and how to get it that way﹘no matter who beholds you. If all else fails, remember this. If you feel good about yourself, you'll project beauty to others. It's a global truth that anyone can cash in on, whether you're a celebrity or just celebrating life.