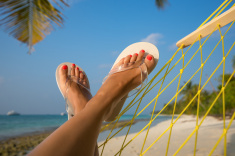 Sun's out, fun's out. That should most definitely be the motto for all things summery, especially when talking all things mani and pedi and hands and feet. That's exactly the mantra and mandate we are going to follow today while we put our best paint plans forward and together for our feet and hands. Whether that be a bright and poppy color choice or a buff and nude nail we want to speak out about and voice; we're here to give you our best tips and tricks for a summer full of perfect paint with no chips.
THE BUFFINGTON POST
We thought it only logical and fair to start out with the basics first so this is where we're going to talk about going completely bare. On your nails, of course. Is there any other sort? Because a healthy, buffed, filed and clean finger or toe nail really is the best paint(able) canvas. Don't forget when making your mani appointment we will clip and snip your cuticles to get the cleanest, smoothest nail surface. (And we will be sure to swipe a clear, hard protective base coat on there too if no peeling/chips appeals to you.)
SHAPED CRUSADER
Now this part is big and pretty important too when deciding which paint color to choose, because before you can start to paint, you must decide your fingernail's perfect shape. Do you share in the sentiment that it's hip to be (a) square? Or do subscribe to the Squoval, Round or Stiletto fare? Or do you like to keep it short and sweet? Whatever the decision be, remember it's up to you and not we.
THE BRIGHT STUFF
Now that you been buffed and shaped, the paint color is the next big decision for you to make. There is no other time during the year that brings more smiles or unabashed cheer than when the sun is shinin' so brightly and you look down at your fingers and toes to see a modern day rainbow of bright neon purples, greens, yellows and pinks. Bonus points if you remember a clear base coat before paint ensues.
THE ART OF THE MATTER
If bright paint and polish colors just aren't enough for you to show off your pedi in your sandals or shoes, why not go the nail art route for some major nail clout? It's been made easier than ever these days to just pick up your own nail art pen and go to town to become your own respected artist. Want some yellow polka dots (or a ray-filled sun) to really hammer home a painted job well done? Then go on and draw some! As soon as your work is ready and dry, slap on a topcoat and say bye to chips!
So now all your best paint plans will most certainly land you in line to receive mani and pedi compliments aplenty! Do one last favor for us, it's certainly important and not itty bitty in the least and kind of beyond the biggest of biggies: Please, oh please, don't forget to slather on the sunscreen and the SPF (repeatedly) to your feet, your body and hands to not only show off but also protect your artist's painted and polished "Rainbow Brite-like" works and your whole entire summer and sun-worshipping and loving self, for sure.