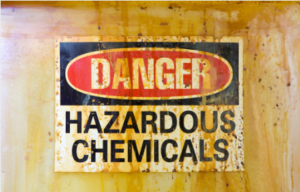 Yep. That's the one, the word that you're all thinking of: cancer. We can almost bet you wouldn't think that you'd ever even need to be thinking (or worrying) about it when you're makeup shopping, but that's exactly what you should be doing, starting right here, right now, today – but don't worry, we're here to tell you just how you can easily navigate that ingredient page, at length; and just how to read the side of all those boxes of beauty products you are contemplating and thinking of buying so you can be in the know of just what is and isn't safe when you are applying makeup to your body and your face.
CHEMICAL REACTION
There's another C word that is a big cause for our concern. The harmful chemicals or as we like to call, nickname and label them, the "No-nos," because we most definitely had an instant chemical (and physical) reaction to the thought of you and your unknowing use of the ones we never ever want you to again use, so we are now going to include a detailed list of the most common no-no makeup ingredients for your face, your shampoo and your body lotions, too, along with your manicure-needing nail polishes.
CHEMICAL IMBALANCE – FACING THE FACTS
Mica and Talc. The most common two ingredients found in powder products for the face. If you see them listed, put them back on the shelf. Why? Because Mica is a color additive and has a reflective and shimmery effect in most mineral foundations but can cause long term irritation, and Talc, most associated with powder for babies but also for our eyes and face (that helps smooth and not cake) can cause (because of asbestos) the biggest C word of all: that nasty cancer. (Devita, Absolutely Whipped Creme Foundation, Absolute Minerals = Goodies / Big Baddie: Makeup Forever's HD foundations)
CHEMICAL IMBALANCE – EYES, LIPS, FACE
Now on to the eyeliners and lipsticks of the world and the no-no ingredients found and unfurled: carbon black, butylated compounds, carcinogens, fragrance, lead, polytetrafluoroethylene (PTFE aka Teflon), phthalates and synthetic musks. Can we say a collective, "YUCK?!?" All these hard-to-pronounce (and spell) ingredients can be harmful to your eyes, face and lips and have proven to be cancerous, and may we just now admit how much we don't like the thought of slathering and putting on TEFLON?! (Devita, Absolute Minerals, SoftLines Eyeliner Pencil = Goodies)
CHEMICAL IMBALANCE – SUDS MACKENZIE
Dioxane, coal tar, formaldehyde, nitrosamines, oxtinoxate phenoxyethanol, quaternium-15, dihydroxyacetone (DHA) and triclosan. We know. Those are some very big and confusing words, but they are big, big no-nos that are most commonly found in any product you would have displayed around your shower or your sink for any kind or form of "lathering" or "suds-ing," hence the clever subtitle, "Suds Mackenzie," only because they are known to cause not only super intense skin irritation but, here we go again … cancer.
CHEMICAL IMBALANCE – NAILING IT DOWN
When it comes to our fingers and toe nails, there are many, many ingredients that super duper fail the test when it comes to cancer-causing ingredients. Here are a few we wanted to be sure to list: acrylates, benzophenone, lead, arsenic, mercury, nail polish removers in general and toluene. What we have obviously deemed the Anti Nail Dream Team. As you have now probably guessed (in our no-no common thread) all of these ingredients have led to possibly be cancerous.
CHEMICAL IMBALANCE – THE HAIR UP THERE
We couldn't stop without having to go from the top of your shampoo'd head to the tips of your nail polished toes. Now we have to talk about hair dyes,  'cause they certainly have their fair share of what to be aware of when it comes to the no-no ingredients they have on their boxes and lists: P-phenylenediamine, and resorcinol. So scientific and ick, and definitely not things we want on freshly colored and dyed noggins and "headies," for no hair color could ever be so perfect as to justify cancer.
MY CHEMICAL NO-MANCE
So, as this hopefully educational article comes to a close, we don't want to forget to mention to also look out for parabens, ethanolamine, homosalate, hydroquinone, methylisothiazolinone, paba (found in sunscreens), petrolatum (Petroleum Jelly aka Vaseline) and polyacrylamide in our cosmetic and beauty products, generally speaking. Because we want you to stop reading this and the next time you go shopping use it as your list to know just which ingredients to Sayonara to (and hopefully to cancer too), for when all is said and done, it can be your new rule of thumb, if you can't pronounce it, don't put it on.
We did the work for you! Below is a list of natural beauty products you can use.
Iherb.com
Caribbean Solutions, Beach Colours, Natural Self Tanner (contains DHA but has more natural ingredients than St. Tropez products for example)
Devita, Absolute Minerals, Absolutely Whipped Creme Foundation
Devita, Absolute Minerals, SoftLines Eyeliner Pencil
Luna Star Naturals, Klee Girls, All Natural Mineral Tinted Lip Gloss
Colorganics Inc., Hemp Organics, Lipstick
Jason Natural, Sea Fresh, Antiplaque & Strengthening Paste
Henna Hair Colour
RejuvaMinerals.com
Bronzer/Contour Powder (light)
Eye Shadow Powder (pearl beige)
Organic stores
Radico Hair Colour
Sanotint Light Hair Dye (darker colours may contain resorcinol)
Savon & Plus Deoderant
The Green Beaver Company, Castile Soap
Alba Botanica, Natural Acne Dote, Face & Body Scrub, Oil-Free (ingredients smell amazing which is always a plus!)
Younique
Younique Lashes Mascara Mood Struck 3D Fiber